By Torchy Blaine
Aug 8, 2018
Overall Rating

Great price for such a different look! I have an 8 foot ceiling so my options were limited as I don't really like mushroom shaped lights. Still, I had second thoughts about this light after I bought it because it was so different. But as soon as I added the vintage Edison 40w LED lights by Gordon and Bond I knew I had found the perfect light for my formal living room!

The shipping was fast and the seller is very reliable.
By Terry S.
Jun 6, 2018
Overall Rating

This fixture looks great! Industrial and yet minimalist.
It is super light and you can arrange the arms whichever way suits you, but you might need to play around and make sure the arms don't overlap each other first. Installing LED bulbs will put some weight on the arms but won't bend them. Regular bulbs shouldn't have that issue.
As per the other reviews, the instructions are lacking, but if you are good at putting Ikea products together and somewhat savvy enough to know about basic electricity then this is very straight forward installation. And yes, the screws they provide are quite short, but you can get replacement screws from your local hardware store to easily fix that.

Picture Note: I am still waiting to receive my Philip Hues LED light kits, so my picture is just showing 4x regular LED e26 bulbs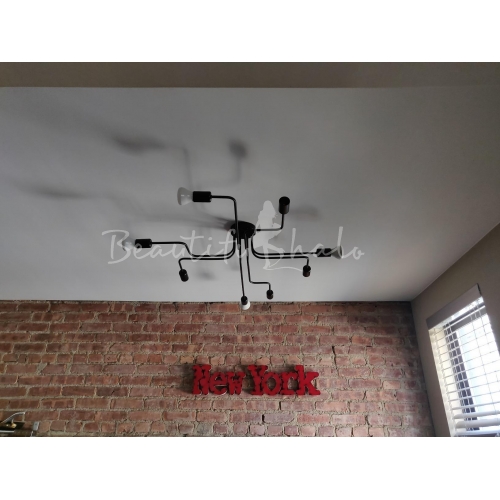 By 8123220432
Jun 6, 2018
Overall Rating

I bought this for my 22 year-old sons new condo. He loves it! It's very different. Very young, very hip. My only complaint is that the directions are terrible. It takes a little time to figure out how to put it together but with some patients it can be done. Don't count on the directions to help much.
By katrina martinez
Apr 4, 2018
Overall Rating

Excellent, I love the style and this is easy to put up for a novice. I don't understand why the light has poor reviews for putting it together or wires to short..The lamp has plenty of length to all of its wiring infact u have to tape the wires together for easier stuffing into the electrical box..the instructions come with a clear picture of the lamp parts and assembly , u really just follow the picture it's very simple...I had this light together in 20. Minutes using only a pair of cheap pliers to tighten the nuts on each arm. Hubby hung it in five minutes...put out a lot of light I am going to add a dimmer to it...it's a great lamp I am loving it